A new Feral file show is coming
https://feralfile.com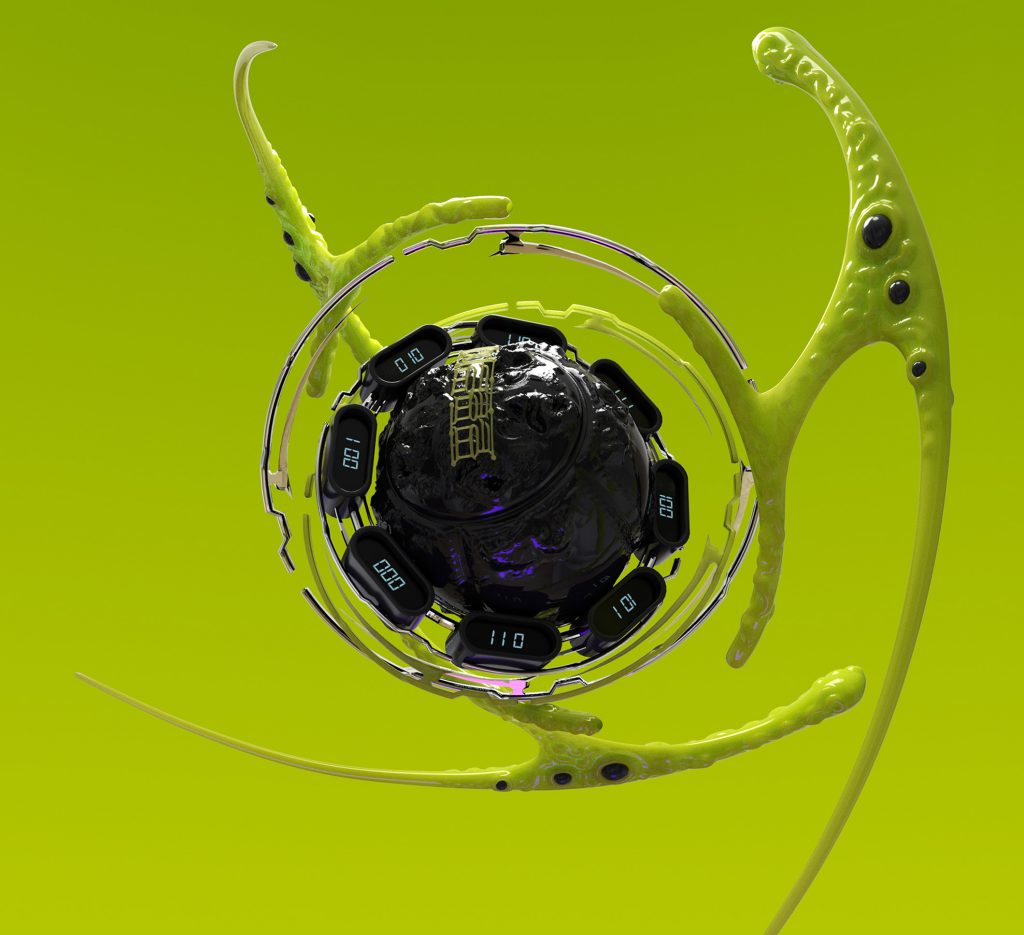 Fragments of a Hologram Rose
Announcing a new digital sculpture and video exhibition of sci-fi, otherworldly plant specimens from 11 groundbreaking digital artists, curated by Rick Silva.
Exhibition Opening: 
June 28, 2021 
7pm EDT / 4pm PDT 
Collecting Begins at 8pm EDT (NFT Editions)
Mutant Bagua by Andrew Thomas Huang. Image courtesy of the artist and Feral File.
Feral File and Bitmark are pleased to announce internationally renowned artist Rick Silva as the curator of the platform's third exhibition, which will feature new editioned digital sculptures and videos by a group of eleven groundbreaking artists:
•Andrew Thomas Huang (Los Angeles)
•Brandon Blommaert (Montreal)
•Ido Radon (West Coast)
•Kim Laughton (Shanghai)
•Kyttenjanae (Los Angeles)
•Lawrence Lek (London)
•Nate Boyce (New York City)
•Peter Burr (New York City)
•Rosa Menkman (Amsterdam)
•Sabrina Ratté (Marseille – Montréal)
•Sara Ludy (New Mexico)
Curator Rick Silva on Fragments of a Hologram Rose:
"The artists featured in this exhibition were asked to imagine and create their own sci-fi plants—whether it be by rendering an alien pollen, some photosynthetic architecture, or a flower whose weirdness is only revealed by its description.
Like botanists from a parallel future or an unknown world, these artists cultivate their fictions into existence. They sub-scatter seed pods, prune polygon cuttings, give their models plenty of volumetric lighting, and soak with fluid simulations. The 3D objects in this exhibition have secret pathways and telepathic tendrils. They bloom on neon skins and disperse nano mold spores through LCD screens."
As for the title, "This exhibition borrows its name from Willliam Gibson's first published short story, 'Fragments of a Hologram Rose' (1977). As the story notes, when a hologram is cut into pieces, even the smallest section still contains the whole of the image. In a similar way, plant cuttings and an edition of digital works can both hold these mirroring elements of origin and multiplicity."
Preview of Select Artworks:
Andrew Thomas Huang — Mutant Bagua (Pictured Above)
Mutant Bagua is a 3D sculptural reinterpretation of the Taoist Bagua (八卦) as a machine-spirit interface. By uploading ancient Taoist script into virtual form, the work serves as an ancestral portal to digital spirits that haunt the interface between Taoist structural code and digital data.
Sabrina Ratté — Floralia II
Floralia II by Sabrina Ratté. Image courtesy of the artist and Feral File.
Floralia II is part of a series inspired by the writings of Donna J. Haraway, Ursula K. Le Guin, and Greg Egan. The work plunges us into a speculative future where samples of then-extinct plant species are preserved and displayed in a virtual archive room. Floralia II is a simulation of ecosystems born from the fusion of technology and organic matter, where past and future coexist in the perpetual tension of the present.
Lawrence Lek — Temple Lily
Temple Lily by Lawrence Lek. Image courtesy of the artist and Feral File.
As Lek describes his imagined specimen: "The rare Temple Lily requires music in order to grow, and higher frequencies cause the flower's characteristic interference pattern on its petals. Widely known for its therapeutic and healing qualities, multiple attempts have been made to clone the flower for pharmaceutical purposes. Despite these attempts, only several known specimens currently exist."