The SOG Powerpint (2)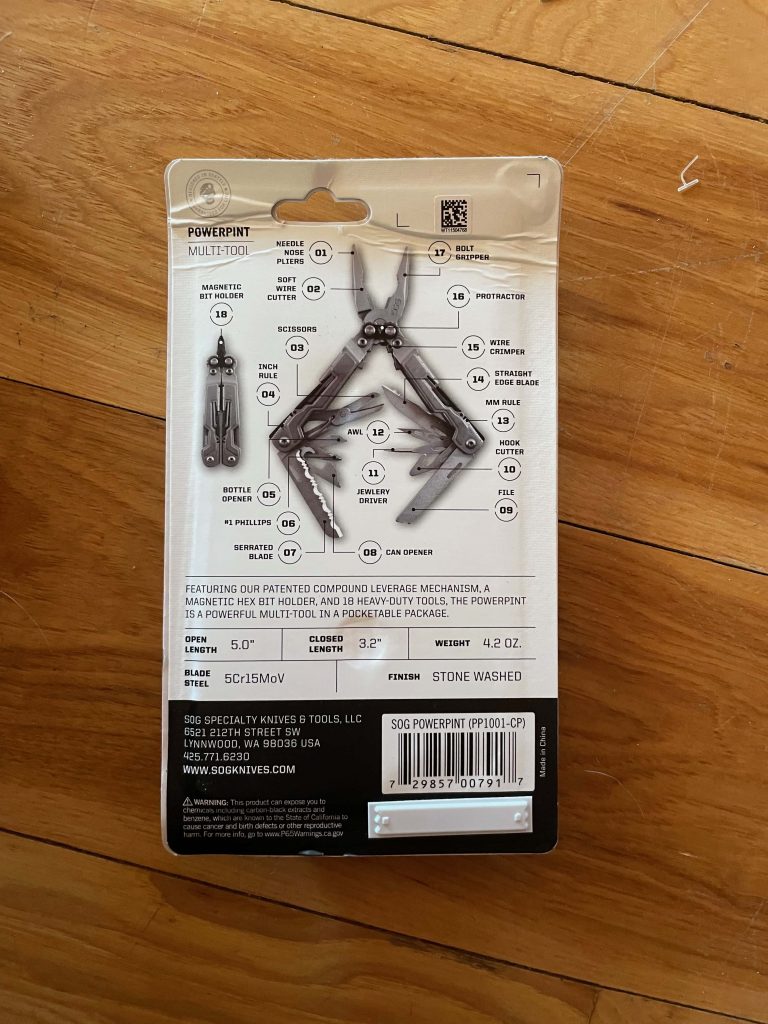 "Includes serrated blade, can opener, inch rule, needle nose pliers, bolt gripper, soft wire cutter, straight-edge blade, awl, jewelry driver, hook cutter, file, mm rule, magnetic bit holder, wire crimper, bevel gauge, scissors, bottle opener, #1 Phillips."
https://sogknives.com/powerpint/
The most interesting aspect of this modest multi-tool are the power-assisting gears on the tiny pliers, which gives them a lot more bite than one expects.
The locking system, which applies to all the tools, is reassuringly sturdy, but also a bit harsh and clumsy. The small tools tend to flip out in bunches, and it takes some care to tuck them back into place and pick the proper one.
There's no fancy grinding on the straight blade or the serrated blade, but they're efficient, even cruel little cutting devices. SOG got its start as a military supply company. There's not a lot of consumer comfort in these squared-off, mil-spec little wedges of Taiwanese stainless steel.
Pocket multitools are empowering and allow you to do a wide variety of things on the spot, but alas, they're design constraints mean that they do everything rather badly. I use the "Powerpint" most as a keychain holder, but it's not adroit even at that modest function, because it tends to flop open and snag inside the front pocket.
Still, I'm glad I have one and I use it half a dozen times a day.
The SOG consumer product which I admire most (from a safe distance) is a fierce combat weapon they call their "Tech Bowie knife." It's named after a violent, knife-duelling Texas adventure who is one of the most savage and least "technical" Texans that a historian could imagine.