Refik Anadol at Feral File
Unsupervised: MoMA seen through the mind of a machine
Announcing a new solo exhibition with media artist Refik Anadol
Exhibition Opening:
November 18, 2021
9pm New York (11pm São Paulo, 3am Berlin (Nov 19), 10am Shanghai (Nov 19))
Collecting begins one hour later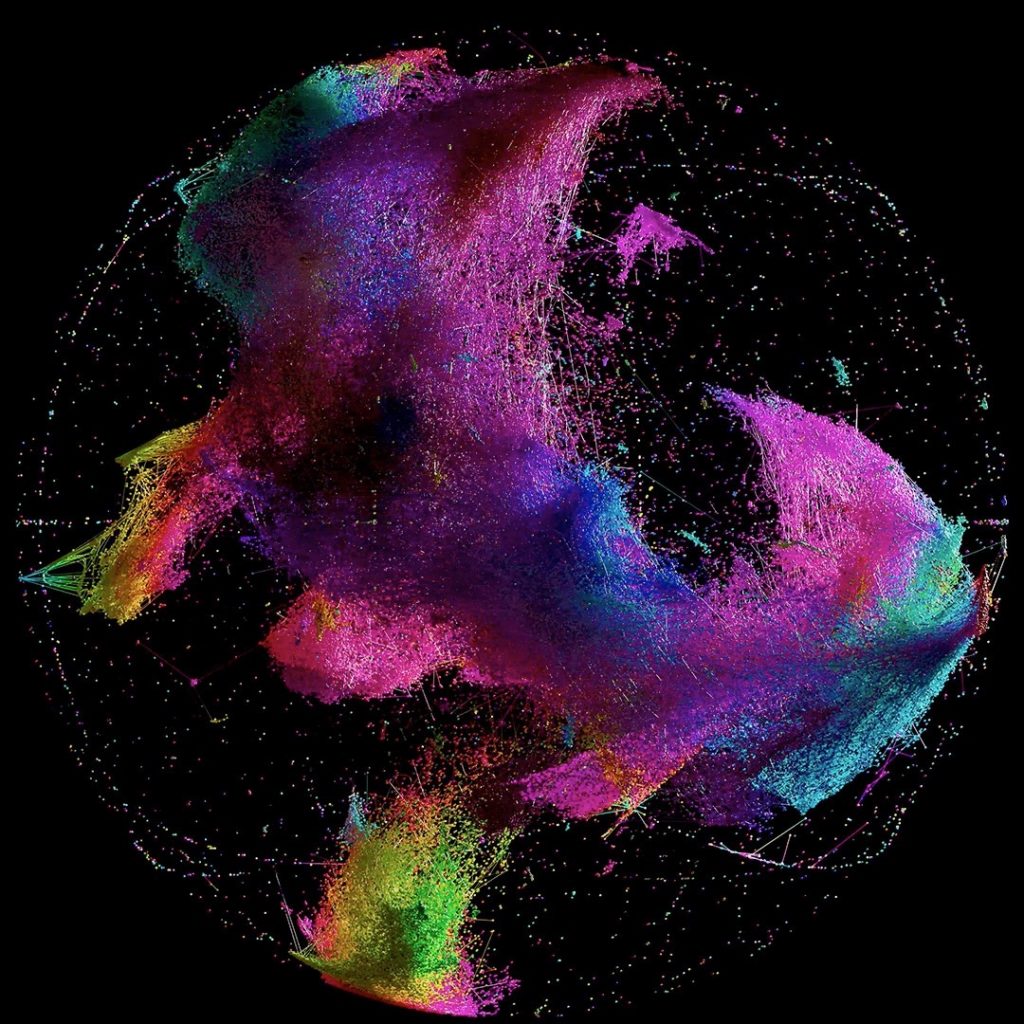 Three images from the "Unsupervised — Machine Hallucinations — MoMA — Dreams" series by Refik Anadol Studio. Image courtesy of the artist and Feral File.
Three images from the "Unsupervised — Machine Hallucinations — MoMA — Dreams" series by Refik Anadol Studio. Image courtesy of the artist and Feral File.
Feral File and Bitmark are pleased to announce the gallery's ninth exhibition, featuring artworks by media artist Refik Anadol, who has trained a unique AI model with the metadata of The Museum of Modern Art's unparalleled collection. The result is a series of software works, video works, and data paintings that capture the machine's "hallucinations" of modern and contemporary art at MoMA. Each work will be made available to collectors as NFTs.
Starting with the exhibition opening, new artworks will be revealed over three days. On November 18 at 10pm EST, one 1/1 software artwork and two 1/1 video artworks (shipped with accompanying hardware) will be auctioned to the highest three bidders. The next day at the same time, nine artworks in editions of 100 will be sold via nine group auctions. One day later, one video in an edition of 5,000 will be sold via set price. All auctions will take place over 24 hours.
Refik Anadol Studio on Unsupervised:
"Unsupervised processes 138,151 pieces of publicly available metadata from the vast collection of The Museum of Modern Art in the mind of a machine. Using StyleGAN2 ADA to capture the machine's 'hallucinations' of modern art in a multi-dimensional space, Anadol trains a unique AI model with subsets of the archive of MoMA's collection of artworks, creating embeddings in 1024 dimensions. The sorted image datasets are then clustered into thematic categories to better understand the semantic context of data. This expanding data universe not only represents the interpolation of data as synthesis, but also becomes a latent cosmos in which hallucinatory potential arises from a novel form of artistic creativity interpreting MoMA's unparalleled collection of modern and contemporary art."
Spanning more than 200 years of art, from paintings to photography to cars to video games, the MoMA collection is an extraordinary dataset—within which works from artistic movements such as Surrealism, not unlike the works in Unsupervised, explored automatism, chance, and systems to generate unprecedented new art forms. The AI-based abstract images and shapes in Unsupervised are interpretations of the Museum's wide-ranging collection, weighted toward the special exhibition of new artworks on view at MoMA this fall.
Preview of Select Artworks:
Unsupervised — Machine Hallucinations — MoMA — Dreams (Pictured Above)
"Unsupervised — Machine Hallucinations — MoMA — Fluid Dreams" is a series of algorithmic AI data paintings showcasing Refik Anadol's unique collaboration with machine learning at the intersection of technology and aesthetics. Each image in the series displays a cluster of chosen "dream sequences," as the artist goes through serendipitous allusions to modern visual expressions in the machine-mind.
"Unsupervised — Data Universe — MoMA" is a global AI data painting that simulates a latent walk among the Museum's digitized collection. The artist and his team used MoMA archives' metadata for the creation of UMAP Data Universe, which helped them construct seven dimensions of the artwork: x, y, z, r, g, b, and time. It combines Anadol's vision of handling data within a universe that it creates for itself with his approach to data visualization's latent space as a locus for never-ending, self-generating contemplation.
About Refik Anadol:
Refik Anadol (b. 1985, Istanbul, Turkey) is a media artist and pioneer in the aesthetics of machine intelligence, and the director of Refik Anadol Studio in Los Angeles. Since 2008, his works have explored the space among digital and physical entities by creating a symbiotic relationship between architecture, science, technology, and media arts. As an artist and a spatial thinker, he addresses the challenges, and the possibilities, that ubiquitous computing has imposed on humanity, and what it means to be a human in the age of AI. Anadol's site-specific audio/visual performances have been featured at other iconic landmarks, museums, and festivals worldwide, such as Venice Architecture Biennale, Walt Disney Concert Hall, The Centre Pompidou, Florence Biennale, Hammer Museum, Art Basel, Dongdaemun Design Plaza, The Portland Building, Daejeon Museum of Art, Artechouse, International Digital Arts Biennial Montreal, Ars Electronica Festival, Arc De Triomf, Zollverein | SANAA's School of Design Building, santralistanbul Contemporary Art Center, Istanbul Design Biennial, and Sydney City Biennale among many others. Anadol has partnered, and continues to work with, teams at Google, Nvidia, Microsoft, NASA JPL, Intel, IBM, Siemens, Epson, MIT, UCLA, Caltech, Harvard, Stanford University, and UCSF to apply the latest cutting-edge science, research, and technologies to his work.