"Proof of Art" NFT show in Linz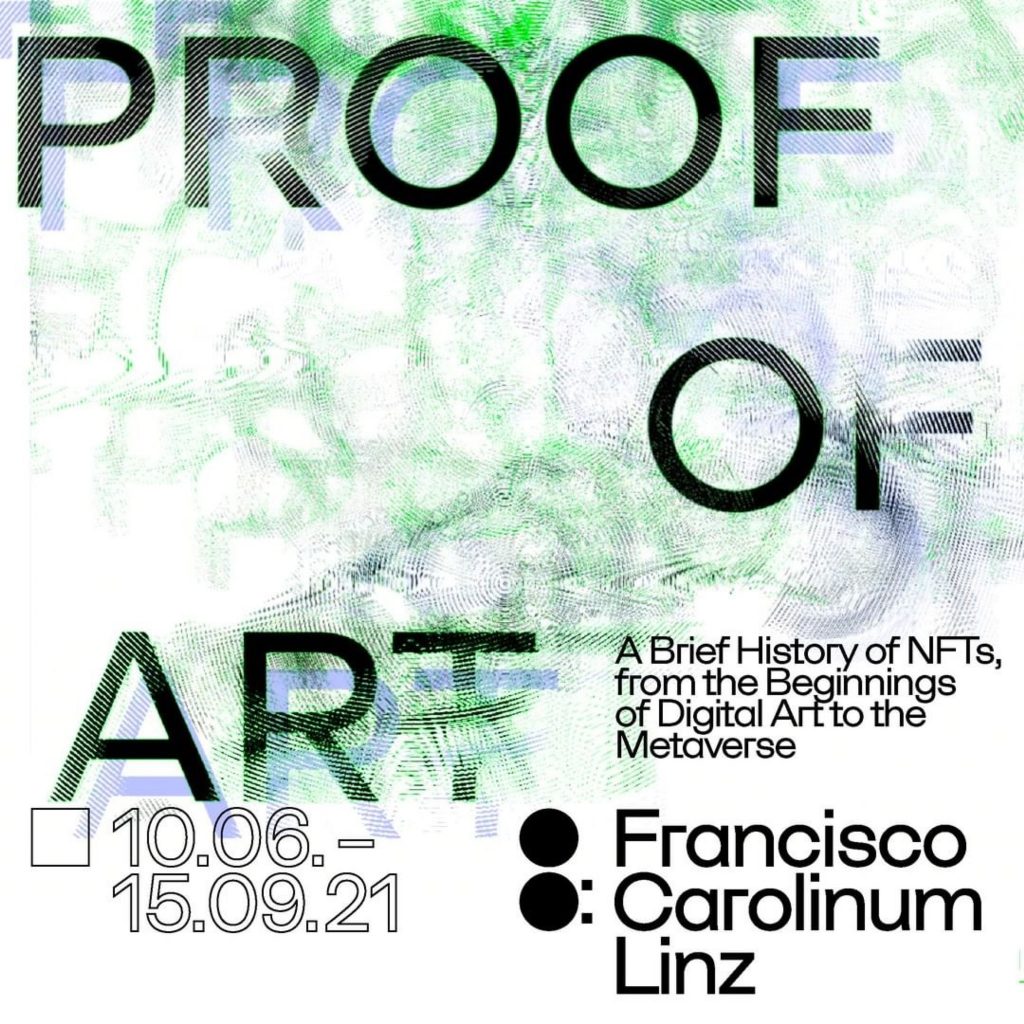 https://www.ooelkg.at/en/exhibition/exibitions/detail/proof-of-art-eine-kurze-geschickte-der-nfts-von-den-anfaengen-der-digitalen-kunst-bis-zum-metaverse.html
PROOF OF ART.
A BRIEF HISTORY OF NFTS, FROM THE BEGINNINGS OF DIGITAL ART TO THE METAVERSE
FRANCISCO CAROLINUM LINZ / 11. JUN. 2021 TILL 15. SEP. 2021
SONDERAUSSTELLUNG
Duration of the exhibition: 10 June – 15 September 2021
Francisco Carolinum, Linz
Francisco Carolinum presents PROOF OF ART, the world's first museum exhibition on the history of NFTs in art, curated by Jesse Damiani. The show can be viewed offline in the museum, and online in Cryptovoxels, a blockchain-based virtual world. Works of 25 artists will be on display at the museum. Using the media of projection, software, videos, installations and digital files, they explore systems of meaning and value, examine the role artists play in a high-tech environment, and discuss the impact of virtual spaces on our everyday reality. The exhibition space in Cryptovoxels will feature virtual works by around 25 artists.
Leaving aside the hype surrounding NFTs, these are, above all, a technology designed to solve a problem: the overabundance of digital files, which can be downloaded, compressed, copied, shared and merged. A NFT, on the other hand, is a certificate of authenticity for each digital file that is stored in the blockchain, thus rendering these files unique. NFTs also function as digital signatures of artists.
In light of the developments surrounding NFTs in art and the art market, a retrospective of their history – and why they are suddenly on everyone's lips – becomes compelling. After a series of remarkably high-priced NFT artworks by digital artists such as Pak and Trevor Jones caused a stir in the art scene in 2020, Beeple set a new record in early 2021 with Everydays – The First 5000 Days fetching USD 69.3 million at the now legendary Christie's auction. Since 2007, he had posted one work of art a day on the internet, which he then combined to form the monumental collage Everydays and put up for auction as a JPEG. Beeple, alias Mike Winkelmann, thus became the third most expensive living artist – after Jeff Koons and David Hockney. The crypto-art community, a motley group of new media artists, 3D designers and visual effects experts, suddenly became the main player in an unprecedented shake-up of the art market.
However, the NFT hype in 2020 and 2021 has a long prehistory….